Security Shipping Boxes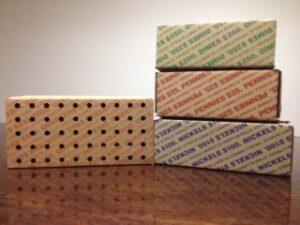 N. F. String & Son, Inc. uses only 200# test corrugation, providing a box strength of up to 200 pounds per square inch of force. Every box has interlocking tab seal ends and tops that provide a superior pilfer-proof design. Our security shipping boxes are easy to seal using packaging tape or adhesives.
In addition, our exclusive "see-through hole" system assures a full box before you break the seal.
Security shipping boxes stack and pack better than cloth bags. Your cost-savings in labor handling can be significant. With our exclusive security feature of seeing the rolls, this will save you invaluable time and money which makes N. F. String & Son, Inc. the superior choice for security shipping boxes. Our boxes protect millions of shipments across the country every day.
Security shipping boxes are color-code printed to ABA standards on kraft corrugation.
If you are looking for wholesale pricing, please contact us.
Showing the single result