Flat Tubular Coin Wrappers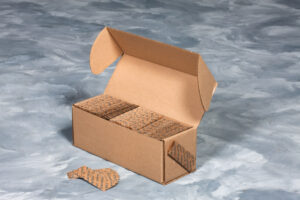 N. F. String & Son, Inc.'s flat tubular coin wrappers will help organize your coins. We offer flat tubular coin wrappers for pennies, nickels, dimes, quarters, half dollars, dollars, Canadian loonies, and Canadian toonies. Our wrappers are made using high-quality, durable, 60# kraft paper. The heavy-weight kraft paper is permanently sealed to provide maximum holding power.
Compare our flat tubular coin wrappers against competitors for weight, quality, stiffness, flexibility, and, most of all, exact coin diameter sizing for easy use.
Our flat tubular coin wrappers are easy-open and the most widely used coin holder for rolls of coins in the banking industry. Each wrapper's denomination color code is printed according to ABA standards and is 100% recyclable.
If you are looking for wholesale pricing, please contact us.
Showing the single result