Currency Straps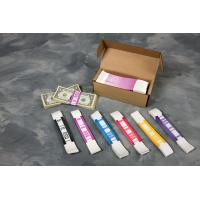 Our ABA-approved, versatile 1-1/4" currency sealing straps are available in solid bar edges and made from higher-quality 50# paper. The large glue area allows for easy size adjustment. These self-sealing currency straps are perfect for money handling and organizational needs.
7 ¾ " long by 1 ¼ " wide
1,000 per box or in cases of 20,000
If you are looking for wholesale pricing, please contact us.
Showing all 11 results